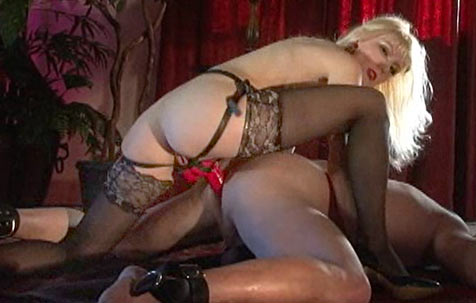 Anal Slut
Karin trains her slave's ass with a prostate probe and dildo on a handle. Then Mistress fucks him with her red strap-on.
Length: 15:51
Format: MP4, WMV
$ 21.89
Dominatrix Mistress Karin von Kroft BDSM Porn Tube
Anal Slut is just one of the many erotic BDSM movies starring Mistress Karin von Kroft available on this site. Satisfy your curiosity with Lingerie, Sexy Outfits, Stockings, Nylons / Full Fashion, Garters, Sheer Robes, Gloves, Latex, Leather, High Heel Pumps, Boots, Open Toe Shoes, Bare Feet, Furs, Crotchless Panties, Butt Plugs, Nude, Cincher / Corset, Floggers, Canes, Paddles, Bullwhips, Cages / Swing, Bondage / Cross / Pillory, Straitjackets / Bondage Sacks, Toilets / Seats, Cock & Balls Bondage / Devices, Smoking, Fisting, Role Play, Vibrators, and any other fetish you can imagine. And if that is not enough, you can view movies in these categories: NEW, Tease And Denial / Edging, CBT - Cock And Ball Torture , Orgasms /Milking, Cum Eating, Peeing / Golden Showers, Ass Licking / Face Sitting, Pussy Licking, Strap-on / Pegging / Anal, Chastity, Intercourse, Multiple Participants, Girl-Girl, Whipping / Corporal Punishment, Foot Domination, Post Orgasm Torment / Ruined Orgasm, Electrical / Sounds / Pumps, Wax / Smoking, Mouth Dildo, Cuckold, Nipple Torture / Piercing / Wax, Breast/nipple Worship, Humiliation, Feminization, Spitting / Slapping, Anal Female, Dildo Female, Virtual Training, and more. Dominatrix Mistress Karin von Kroft has passion for BDSM and Female domination. You will be forced to please her.