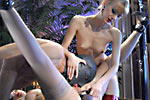 Slave's Training Continues 1
Cora gets very wet while Mistress Karin uses vibrating dildo on her pussy. Male slave that is locked in a cage has to lick all the pussy juice from the dildo. Then Karin brings him to lick Cora's clit while she puts dildo back in her pussy.
Length: 17:17
Format: MP4, WMV
Series: Slave Training Continues
$ 24.89
Dominatrix Mistress Karin von Kroft BDSM Porn Tube
Slave's Training Continues 1 is just one of the many erotic BDSM movies starring Mistress Karin von Kroft available on this site. Satisfy your curiosity with Lingerie, Sexy Outfits, Stockings, Nylons / Full Fashion, Garters, Sheer Robes, Gloves, Latex, Leather, High Heel Pumps, Boots, Open Toe Shoes, Bare Feet, Furs, Crotchless Panties, Butt Plugs, Nude, Cincher / Corset, Floggers, Canes, Paddles, Bullwhips, Cages / Swing, Bondage / Cross / Pillory, Straitjackets / Bondage Sacks, Toilets / Seats, Cock & Balls Bondage / Devices, Smoking, Fisting, Role Play, Vibrators, and any other fetish you can imagine. And if that is not enough, you can view movies in these categories: NEW, Tease And Denial / Edging, CBT - Cock And Ball Torture , Orgasms /Milking, Cum Eating, Peeing / Golden Showers, Ass Licking / Face Sitting, Pussy Licking, Strap-on / Pegging / Anal, Chastity, Intercourse, Multiple Participants, Girl-Girl, Whipping / Corporal Punishment, Foot Domination, Post Orgasm Torment / Ruined Orgasm, Electrical / Sounds / Pumps, Wax / Smoking, Mouth Dildo, Cuckold, Nipple Torture / Piercing / Wax, Breast/nipple Worship, Humiliation, Feminization, Spitting / Slapping, Anal Female, Dildo Female, Virtual Training, and more. Dominatrix Mistress Karin von Kroft has passion for BDSM and Female domination. You will be forced to please her.